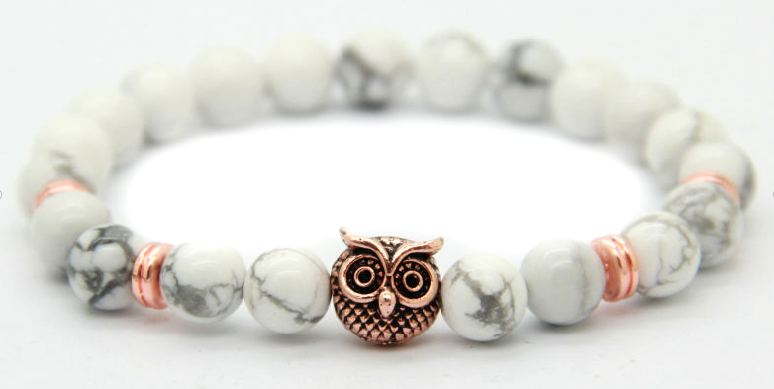 White Marble & Rose Gold Alpha Owl Bracelet
$ 11.99
White Marble & Rose Gold Alpha Owl Bracelet
 The Alpha Owl bracelet features Matte Black smooth 8mm Beads, Stunning Rose Gold Owl Center piece.
Alpha Owl Bracelet Meaning: The Alpha Owl bracelet represents being patient, and mental toughness.  Owls are known for hunting their pray from up high, and sometimes waiting for several hours before striking.  This transfers over to humans with the idea of waiting for the right time to do something in life, rather then jumping into something you cannot handle.  Wearing the Alpha Owl will remind you to stay above others, and to think long and hard before doing something.  Finally this bracelet will remind you to be Alpha, and confident throughout your daily Life :)
FREE SHIPPING
Bracelet Circumference roughly 7 Inches (more or less)
Elastic (Stretchy) Band made to fit MOST people
High quality material, and feel
SHIPPING is FREE FOR USA ONLY.

Domestic Shipping (USA):  ALL USA Shipping is FREE!  Your Item/s will be packaged and shipped the same or next day of that you ordered on.  Keep in mind First class mail takes 5-7 Business days (Most of the time closer to 5)

International Shipping: Your Items will be packaged and shipped the same or next day that of you ordered.  We do ship worldwide!  Sorry but International Shipping is not FREE.   Please be patient and note that delivery times will vary depending on your location. Also, customs may charge an extra varying fee upon arrival. Hope this explains what you need to know about Int. Shipping.