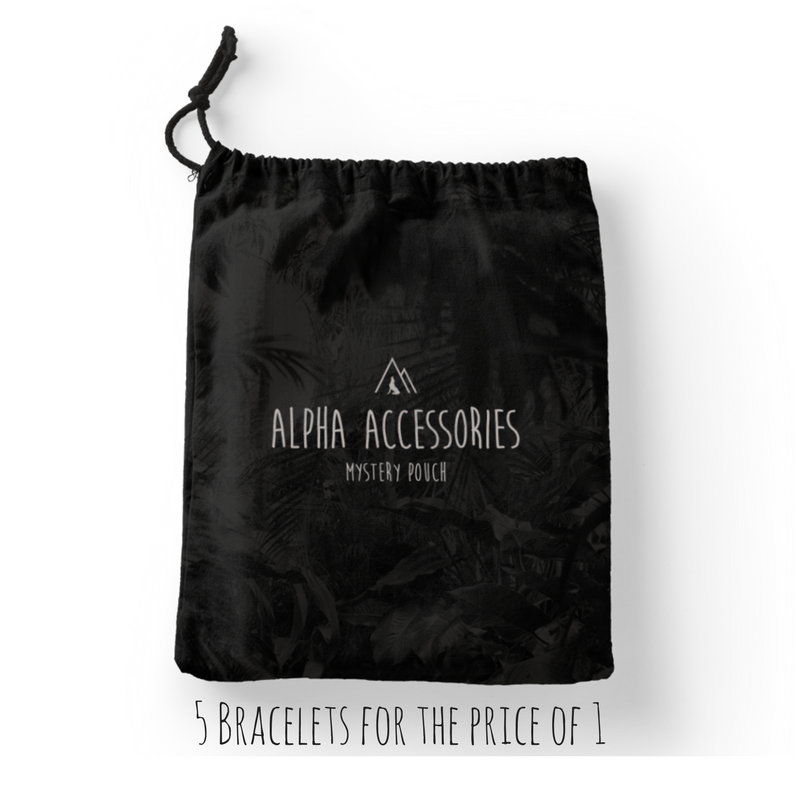 Mystery Pouch (5 Randomly picked bracelets)
$ 44.99
Alpha Accessories Mystery Pouches are here!
*Less than 100 will be Sold*
(5 Randomly picked bracelets) Price of 1!
In each purchase of an Alpha Accessories Mystery Pouch you will receive 5 randomly chosen bracelets for the price of just 1! 
The bracelets will be picked at random by our staff!
*This AMAZING offer will end soon!*

FREE SHIPPING
Bracelet Circumference roughly 7 Inches (more or less)
Elastic (Stretchy) Band made to fit MOST people
High quality material, and feel
SHIPPING is FREE FOR USA ONLY.

Domestic Shipping (USA):  ALL USA Shipping is FREE!  Your Item/s will be packaged and shipped the same or next day of that you ordered on.  Keep in mind First class mail takes 5-7 Business days (Most of the time closer to 5)

International Shipping: Your Items will be packaged and shipped the same or next day that of you ordered.  We do ship worldwide!  Sorry but International Shipping is not FREE.   Please be patient and note that delivery times will vary depending on your location. Also, customs may charge an extra varying fee upon arrival. Hope this explains what you need to know about Int. Shipping.